SAY Confident Voices 
Songwriters Project
 (8-week program)
The Songwriting Project is an 8-week program focused on writing original songs.  Kids and Teens who stutter work in small groups with accomplished professional songwriters who guide them in the process of turning their ideas into music.  Our Music Director, Everett Bradley, then arranges the songs for a live band and everyone has the opportunity to perform their work on stage at the legendary Joe's Pub!

Why Songs? For many people who stutter, singing and rapping can free their voice in ways that speaking sometimes can't. Singing engages our brains and our voices in a different and exciting way!
Participants have the opportunity to share their work on stage – with no pressure to perform – in small groups at the culmination of each program, in a performance fully produced by SAY's distinguished artistic staff. It's the ultimate confidence-building experience that transfers directly into the classroom and everyday life. 
Registration is OPEN.
Program Time Slots
Fridays from 4:30 pm to 6:30 pm
Saturdays from 11:00 am to 1:00 pm
Saturdays from 2:00 pm to 5:00 pm
AFTERSCHOOL/WEEKEND PROGRAMMING AND PERFORMANCE DATES
Program Starts: September 27th & 28th
Program Dates: Click Here
Show date: January 19th, Noon, Joe's Pub
Tuition: FREE
During our 2019/2020 season, Confident Voices is being offered FREE while space lasts.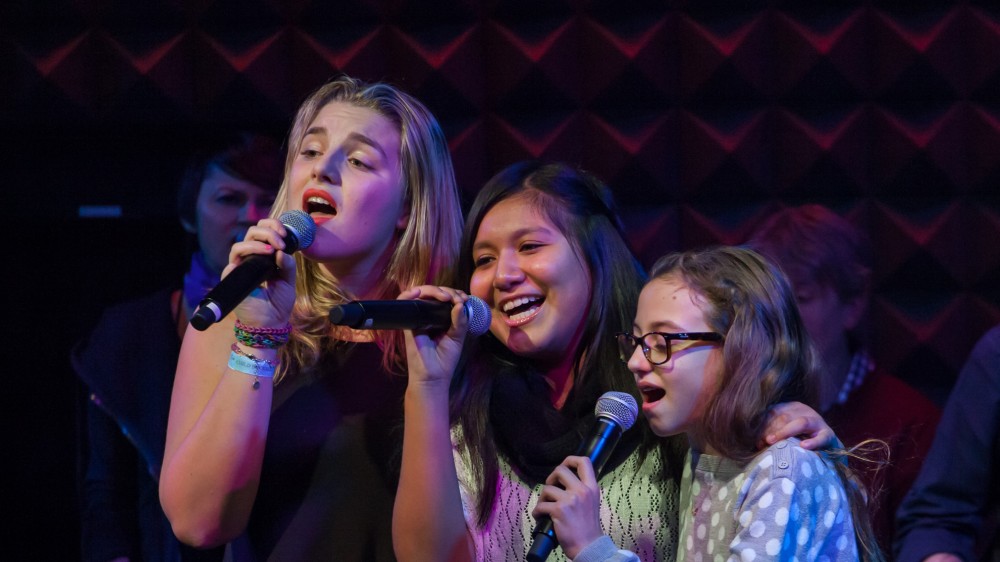 Are you interested in learning more about Confident Voices?
We would love to meet you! You can also visit a Confident Voices session to see what it's all about. To learn more about Confident Voices, receive a program package via mail, or for answers to any questions you may have about our Confident Voices After-School & Weekend programs, please call or email our Director of Programming: Kate@SAY.org, or 212-414-9696, ext. 208, or Associate Director of Confident Voices: Aidan@SAY.org,212-414-9696, ext.207.
You may also submit an inquiry, or download a brochure.
Watch a recent WPIX news Confident Voices segment, read more about Confident Voices in Scholastic's Action Magazine.
Do you live outside of the NY Tristate area – please consider our national Storytellers program or visit our national Camp SAY site (CampSAY.org).
Visit our Events page to see upcoming programs.
Follow all of the fun at Confident Voices, by visiting our blog. It's THE place to go for frequent updates, photos & stories. Click the button below to visit our blog!